June 14th 2010: Joan Jett – Wild One, Runaway, Queen of Noise, Blackheart – played in London's legendary 100 Club to an intimate audience of 300, which sold out in less than 10 minutes: the show was her first in the UK for over 20 years.
A mixed age bag of rock and roll devotees, in original tour tees, leather and lace, travelled from London to Liverpool and beyond to claim their coveted place in the crowd.  Crammed in the dark hall, walls lined with black and white stills of past shows, the energy is electric as people bet on hit songs which would be played.
Joan with her Blackhearts, Enzo (bass), Dougie Needles (lead guitar), Thommy Price (drummer) and lifelong friend and legendary producer, Kenny Laguna on keyboards, takes to the stage to raucous applause.  In her signature style of skin tight black leather low-cut jumpsuit, black Converse charcoal cat-eyes and shocking red lip-stick – this isn't attire, this is attitude.
Breaking straight into fan favourite, Bad Reputation and following up with the cult classic, Cherry Bomb – title track from the recent release of The Runaways movie starring Kristen Stewart as Joan and Dakota Fanning as front woman, Cherie Currie – the sound speaks of musicians who not only know their audience, but know their stuff: it's note perfect.
Songs continue to range from Joan's first ever song You Drive Me Wild, to favourites from the most recent album Sinner, A.C.D.C. as well as classics Crimson & Clover and (my favourite) I Love Playing With Fire.
Rocking out to a mix of career spanning hits, Joan owns the show and her often reported shy persona is cowering behind her stage presence.  Jett, who openly distances herself from the public eye, clearly thrives from interaction with fans and at one point plays almost an entire song eye to eye with one very star-struck – and unbelievably lucky – young fan.  In fact, Joan makes point to keep eye contact with as many members of the audience as she can, encouraging the crowd to "sing out!".
After over two-hours of a sweaty and sinful set, Joan gives special mention to Kenny as the man who gave her a chance when "twenty three record labels turned me down" and takes a bow with the Blackhearts.
Clearing the stage, the band re-emerge after a quick change and patiently take time with each and every 300 plus fan – taking photos and signing autographs, when Joan insists on personal dedications, because "if you don't tell me your name it'll just end up on Ebay, man!".
A lifetime in the music business hasn't jaded Jett – I fail to describe her without using the words "uber" and "cool" in the same sentence, which not only defeats the point but barely does justice.
In truth, Joan is 110% present, self-possessed and purely passionate as well as the most unaffected person I can imagine existing – not entirely dissimilar to Jesus in a black leather jumpsuit rocking an electric guitar.
I feel entirely honoured to have met her and can't wait to catch the band play again – as soon as possible!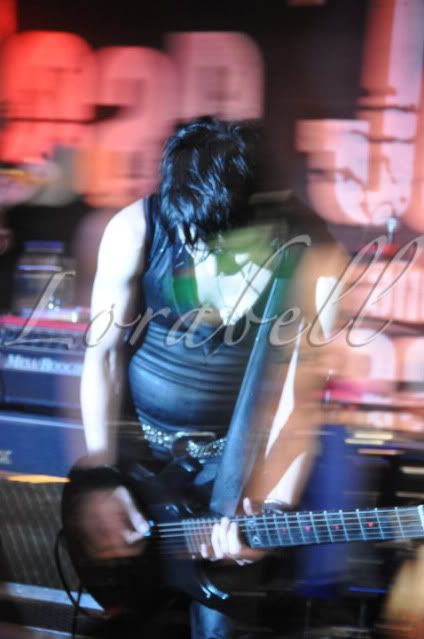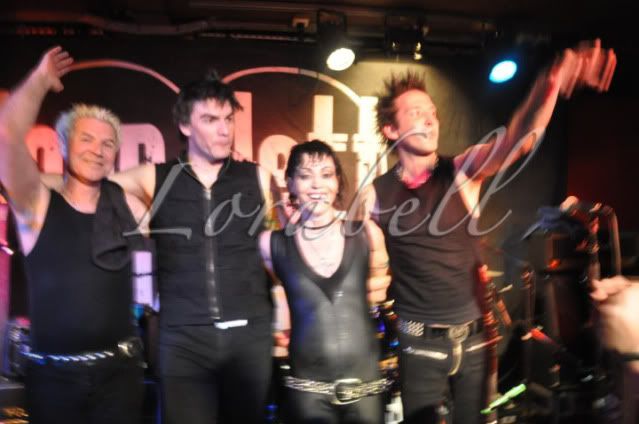 VIDEOS TO FOLLOW